VELVET CRAYON >>> A Far Out Fest Pre-Show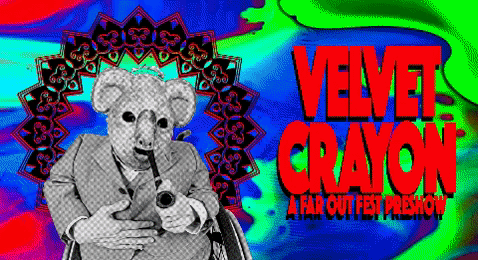 Polish your threads and ready your mind for the most Far Out week of the year! This Wednesday, May 9th, we kick off Nashville's psychedelic music & arts festival with a basement show -- Join us at Nashville's most underground venue for an evening of sideshow-style entertainment and groovy music. Local acts The Shadowtones and Black Venus will accompany Philadelphia's one-man koala-based band, Velvet Crayon, the brainchild of Erik Paluszak.
Erik is currently traveling the US on a solo tour with his wife. He got his start as an act in the Squidling Brothers Sideshow Circus and developed his own personal flavor of psychedelic noise punk, utilizing a drum machine and guitar. Being confined to his wheelchair (named Llyyddddddddddddd) hasn't stopped Erik from enjoying the adventure that is life and spreading his acid-throttled nursery rhymes throughout the land.